Custom Fit T-Top Boat Covers
Provides easy installation in a custom self-vented, dual entry cover that installs under the T-Top!
View Fabrics and Color Options
Available Fabrics
Premium 100% Solution Dyed Marine Acrylic
Superior Quality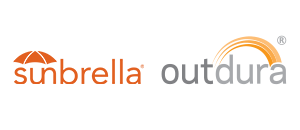 Premium 100% Solution Dyed Marine Acrylic 9.25 oz Fabric utilizing either Sunbrella® or Outdura®. Both fabric brands are considered to be industry leading solutions for the marine industry with competitive quality, performance and value. Both are highly UV and mildew resistant, providing excellent resistance to fading and rot, excellent (top of the line) sun blockage, breathability, and water repellency. We reserve the right to provide either fabric due to Covid related fabric outages. Sunbrella® is Made in the USA and imported. Outdura® is Made in USA. (10 Year Limited Warranty on Sunbrella® and Outdura®)
Sun-DURA®
Excellent Quality
100% Solution Dyed Polyester means colors are part of the polyester fiber itself, rather than the dye adhering only to the surface of the fibers. 7oz. marine grade polyester that offers superior resistance to harmful UV rays, fading, mildew, tearing and overall wear-and-tear. Our own unique finish provides exceptional water repellency while maintaining breathability for the health of the boat. Made in USA and Imported. (7 Year Limited Warranty)
*Sunbrella® is a Registered Trademark of Glen Raven Mills
*Outdura® is a Registered Trademark of Sattler Corporation
*Performance Poly-Guard® is a Registered Trademark of Covercraft Industries, LLC
*Sun-DURA® is a Registered Trademark of Covercraft Industries, LLC
*Mossy Oak™ is trademark used under license from Haas Outdoors, Inc. by Covercraft Industries, LLC
Design
Construction
Join seams are folded four-ply. No raw edges.
Stitching
Double stitch construction for added strength and durability
Weather-resistant
Anti-wick thread throughout construction
Double reinforced
Tie-down loops sewn into hem.
Best Warranty in the Business
Best Warranty in the business based on fabric selection.
Made in the USA
All Carver Covers are made in the USA.
Product Details
An alternative to our popular Dual Entry Hard Top (DEHT) covers, Carver Custom-Fit T-Top boat covers provide the boat owner with a simplified installation process in a self-vented, dual entry cover that installs easily under the T-Top. Carver custom T-Top boat covers are made specifically for a make and year-model boat, providing the absolute best, "glove-like" fit.
Our Custom-Fit T-Top boat covers feature:
Heavy duty 1/4″ draw rope encased in hem for easy installation and snug fit.
Reinforced strap and buckle system supports the cover under the T-Top or Hard Top.
Marine-grade port and starboard side zippers provide accessibility to the boat while covered.
Cover is designed for use on a trailer (for storage only), boat lift or in dry stack with 1/4″ heavy duty draw rope and ratchet system to keep the cover secure.
Under-the-top design allows maximum ventilation reducing the risk of mold and mildew for reduced cleaning and maintenance.
Our pattern library includes popular brands such as Boston Whaler, Sea Hunt, Key West, Sportsman, Pioneer, Stingray, Carolina Skiff, Sea Chaser, Grady White and more! New custom patterns added weekly!
Heavy-duty boat cover tie-down kit, rope ratchet and installation instructions included with each cover.
Provides outboard motor coverage.
* Note: For boats with a full windshield, eight suction cups are also provided to create mounting points for the boat cover underneath the fiberglass T-Top. Covers are recommended for storage only. Not recommended for trailering.
You can judge a boat by its cover!™
Need help?
Support Documents
Contact Information
Carver by Covercraft Industries, LLC
212 N. Lyles Ave.
Landrum , SC 29356
Phone: (864) 457-5820
Fax: (864) 457-5821
Associates are available Monday through Thursday from 8 a.m. to 5 p.m. Eastern and Friday from 8 a.m. to 4:30 p.m. Eastern.