Collapsible / Removable 2-Bow Bimini Top
Designed for Inflatable and Small Fishing Boats.
View Fabrics and Color Options
Available Fabrics
Premium 100% Solution Dyed Marine Acrylic
Superior Quality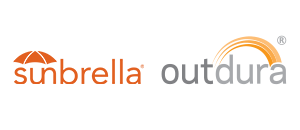 Premium 100% Solution Dyed Marine Acrylic 9.25 oz Fabric utilizing either Sunbrella® or Outdura®. Both fabric brands are considered to be industry leading solutions for the marine industry with competitive quality, performance and value. Both are highly UV and mildew resistant, providing excellent resistance to fading and rot, excellent (top of the line) sun blockage, breathability, and water repellency. We reserve the right to provide either fabric due to Covid related fabric outages. Sunbrella® is Made in the USA and imported. Outdura® is Made in USA. (10 Year Limited Warranty on Sunbrella® and Outdura®)
Sun-DURA®
Excellent Quality
100% Solution Dyed Polyester means colors are part of the polyester fiber itself, rather than the dye adhering only to the surface of the fibers. 7oz. marine grade polyester that offers superior resistance to harmful UV rays, fading, mildew, tearing and overall wear-and-tear. Our own unique finish provides exceptional water repellency while maintaining breathability for the health of the boat. Made in USA and Imported. (7 Year Limited Warranty)
*Sunbrella® is a Registered Trademark of Glen Raven Mills
*Outdura® is a Registered Trademark of Sattler Corporation
*Performance Poly-Guard® is a Registered Trademark of Covercraft Industries, LLC
*Sun-DURA® is a Registered Trademark of Covercraft Industries, LLC
*Mossy Oak™ is trademark used under license from Haas Outdoors, Inc. by Covercraft Industries, LLC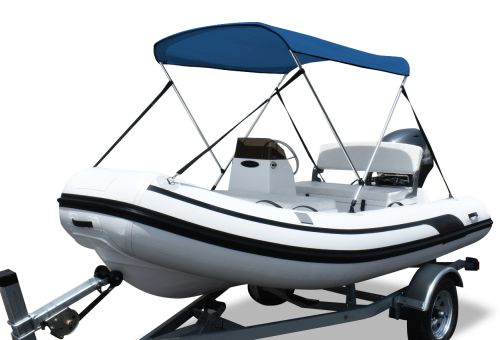 Design
Construction
Double-walled main bow for added strength.
Tubing
7/8" heavy-walled anodized aluminum tubing w/ spring button stop.
High Grade Domestic Nylon
Fittings standard.
Stainless Steel
Snap hooks, eye straps and assembly fasteners.
Canvas Binding
100% marine-grade acrylic.
Weather-Resistant
anti-wick thread used throughout canvas construction.
Professional Stitching
no raw edges.
Best Warranty in the Business.
based on the fabric selection.
Product Details
Carver's Collapsible 2-Bow Bimini Top is designed for inflatable boats as well as small fishing boats (such as V-hull Fishing Boats and Jon Boats). It's unique internal spring button, quick disconnect and storage boot carrying handle makes this bimini top quick and easy to take on the go. Available in 2 sizes.
Our 2-Bow Collapsible Bimini Tops feature:
3 material choices.
Mounting hardware included for installation on small fishing boats. If mounting kit for inflatable boats is needed, order separately*.
Unique internal spring button stop for easy break-down.
Stainless steel quick release pins with lanyards for easy installation and removal from deck hinges.
Easy to fold & store. Includes matching storage boot with convenient carrying handle.
Provides the boater a simple and economical barrier of protection from the sun's harmful UV rays.
Ready to assemble. UPSable.
*Inflatable boat mounting hardware sold separately (2 options).
Hypalon Mounting Kit – Part#HPKIT
PVC/Vinyl Mounting Kit – Part#VLKIT
Kits include 2 nylon universal deck hinges (drilled for quick release pins), 4 stainless steel D-Rings, 1-4oz. adhesive and 1-4oz. solvent.
Height 42″
Length 5'6″
Fits Mounting Widths:
Performance Poly-Guard
Order No.
Sun-DURA
Order No.
Sunbrella®/Outdura®
Premium Acrylic
Order No.
47″ to 52″
PG4250UB
S4250UB
A4250UB
53″ to 62″
PG4251UB
S4251UB
A4251UB
You can judge a boat by its cover!™
Need help?
Support Documents
Contact Information
Carver by Covercraft Industries, LLC
212 N. Lyles Ave.
Landrum , SC 29356
Phone: (864) 457-5820
Fax: (864) 457-5821
Associates are available Monday through Thursday from 8 a.m. to 5 p.m. Eastern and Friday from 8 a.m. to 4:30 p.m. Eastern.