Mesh Boat Cover Storage Bag
Mesh Boat Cover Storage Bag
This strong, lightweight and breathable mesh storage bag is ideal for storing your boat cover when not in use. Convenient draw cord with barrel lock keeps bag securely closed. Bag is a roomy 30″ x 36″ to accommodate virtually any size boat cover.
Order No. 61030.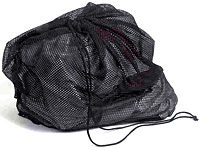 Need help?
Contact Information
Carver by Covercraft Industries, LLC
212 N. Lyles Ave.
Landrum , SC 29356
Phone: (864) 457-5820
Fax: (864) 457-5821
Associates are available Monday through Thursday from 8 a.m. to 5 p.m. Eastern and Friday from 8 a.m. to 4:30 p.m. Eastern.