Support Pole with Boat Vent II
Added breathability for the health of your boat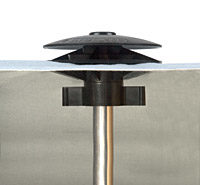 Product Details
Replace a conventional support pole with one that provides an air vent to reduce moisture, heat and mildew under the cover. Includes an adjustable (22″ to 70″) anodized aluminum pole, boat vent and simple installation instructions.
Order No. 60002.
Need help?
Contact Information
Carver Industries, Inc.
P.O. Box 399
Landrum , SC 29356
Phone: (864) 457-5820
Fax: (864) 457-5821
Associates are available Monday through Thursday from 8 a.m. to 5 p.m. Eastern and Friday from 8 a.m. to 4:30 p.m. Eastern.