Universal T-Top Covers
Specially designed to protect the critical components under the T-Top
View Fabrics and Color Options
Available Fabrics
Premium 100% Solution Dyed Marine Acrylic
Superior Quality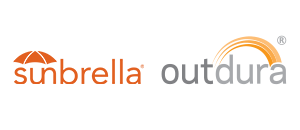 Premium 100% Solution Dyed Marine Acrylic 9.25 oz Fabric utilizing either Sunbrella® or Outdura®. Both fabric brands are considered to be industry leading solutions for the marine industry with competitive quality, performance and value. Both are highly UV and mildew resistant, providing excellent resistance to fading and rot, excellent (top of the line) sun blockage, breathability, and water repellency. We reserve the right to provide either fabric based on availability. (10 Year Limited Warranty on Sunbrella® and Outdura®)
Sun-DURA®
Excellent Quality
100% Solution-Dyed marine grade polyester. 7.6 oz., 600 x 600 Denier. Sun-DURA® colors are part of the polyester fiber itself so the color goes completely through the fiber instead of being just on the surface. 100% Polyurethane finish coating. Excellent UV and mildew resistance. Excellent resistance to fading and rot. Excellent sun blockage. Extremely water repellent. Excellent against cold-cracking. Breathable to help allow interior moisture to escape. (7 Year Limited Warranty)
*Sunbrella® is a Registered Trademark of Glen Raven Mills
*Outdura® is a Registered Trademark of Sattler Corporation
*Performance Poly-Guard® is a Registered Trademark of Covercraft Industries, LLC
*Sun-DURA® is a Registered Trademark of Covercraft Industries, LLC
*Mossy Oak™ is trademark used under license from Haas Outdoors, Inc. by Covercraft Industries, LLC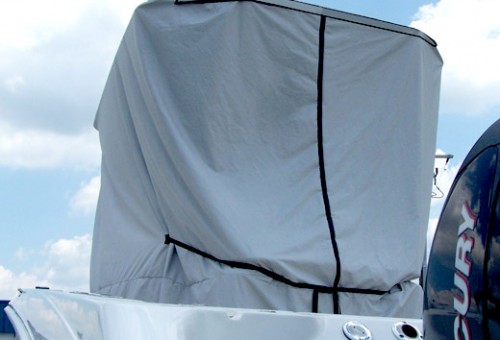 Product Details
Features Include:
Double-pull non-corrosive marine grade zipper opens from the inside or outside for convenient access.
Marine grade polyester hook and loop sleeve allows VHF antenna(s) to remain attached when top is covered.
Available in two sizes to maximize protection.
Fit accommodates outrigger mounts, GPS and rod holders.
Heavy duty sewn-in adjustable strap system with double-adjust buckle allows a customized fit when the cover is secured.
Cover comes standard with the following:
Two Support Poles
Easy Installation and Care Instructions
Available in two sizes in our premium Sun-DURA® and Premium Solution Dyed Marine Acrylic our toughest marine grade fabrics.
Sunbrella®/Outdura®
Premium Acrylic
Order No.
Sun-DURA® Order No.
Fits up to
900LGA
900LGS
90″L x 66″W x 84″H
900XLA
900XLS
108″L x 66″W x 84″H
For storage and mooring only. Not recommended for trailering.
Need help?
Support Documents
Contact Information
Carver by Covercraft Industries, LLC
212 N. Lyles Ave.
Landrum , SC 29356
Phone: (864) 457-5820
Fax: (864) 457-5821
Associates are available Monday through Thursday from 8 a.m. to 5 p.m. Eastern and Friday from 8 a.m. to 4:30 p.m. Eastern.