Bimini Top Super Sport Edition
Our 6-foot / 35″ high Super Sport Edition Bimini Top
View Fabrics and Color Options
Available Fabrics
Premium 100% Solution Dyed Marine Acrylic
Superior Quality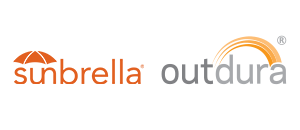 Premium 100% Solution Dyed Marine Acrylic 9.25 oz Fabric utilizing either Sunbrella® or Outdura®. Both fabric brands are considered to be industry leading solutions for the marine industry with competitive quality, performance and value. Both are highly UV and mildew resistant, providing excellent resistance to fading and rot, excellent (top of the line) sun blockage, breathability, and water repellency. We reserve the right to provide either fabric based on availability. (10 Year Limited Warranty on Sunbrella® and Outdura®)
Sun-DURA®
Excellent Quality
100% Solution-Dyed marine grade polyester. 7.6 oz., 600 x 600 Denier. Sun-DURA® colors are part of the polyester fiber itself so the color goes completely through the fiber instead of being just on the surface. 100% Polyurethane finish coating. Excellent UV and mildew resistance. Excellent resistance to fading and rot. Excellent sun blockage. Extremely water repellent. Excellent against cold-cracking. Breathable to help allow interior moisture to escape. (7 Year Limited Warranty)
Camouflage
Excellent Quality
An excellent choice for the avid hunter or for the boater that simply likes camouflage. 100% Marine-grade polyester. 6.8 oz, 600 x 600 denier, strong and durable. Exceptional tear strength, excellent UV and mildew resistance. Extremely water repellent w/ durable water repellant (DWR). Excellent resistance to fading and rot. Breathable to help allow interior moisture to escape. Available in two Mossy Oak™ camouflage patterns. (3 Year Limited Warranty)
Vinyl
Excellent Quality
Weatherproof Vinyl 14 oz with charcoal denim backing Waterproof, all-weather finish. Resistant to dirt, grease and mildew. Excellent sun blockage. Easy to handle, fold and store. (5 Year Limited Warranty) **Prop65 Letter to Customers**
*Sunbrella® is a Registered Trademark of Glen Raven Mills
*Outdura® is a Registered Trademark of Sattler Corporation
*Performance Poly-Guard® is a Registered Trademark of Covercraft Industries, LLC
*Sun-DURA® is a Registered Trademark of Covercraft Industries, LLC
*Mossy Oak™ is trademark used under license from Haas Outdoors, Inc. by Covercraft Industries, LLC
Design
Construction
Double-walled main bow for added strength.
Tubing
7/8" heavy-wall anodized aluminum tubing or 7/8" 316 grade stainless steel tubing.
High Grade Domestic Nylon
Fittings standard (stainless steel fittings upgrades available).
Stainless Steel
Snap hooks and eye straps.
316 Grade Stainless Steel
Adjuster buckles and assembly fasteners.
Canvas Binding
100% marine-grade acrylic.
Weather-Resistant
Anti-wick thread used throughout canvas construction.
Professional stitching
No raw edges.
Best Warranty
Best warranty in the business based on fabric selection.
Product Details
New 35″ top height can easily be cut down as low as 30″ for an even greater low- profile appearance.
New 35″ top has a full 6-foot long canvas to provide the coverage and protection you need.
New sleek canvas design eliminates the traditional valances for a clean, streamlined appearance.
Need help?
Contact Information
Carver by Covercraft Industries, LLC
212 N. Lyles Ave.
Landrum , SC 29356
Phone: (864) 457-5820
Fax: (864) 457-5821
Associates are available Monday through Thursday from 8 a.m. to 5 p.m. Eastern and Friday from 8 a.m. to 4:30 p.m. Eastern.