303® Combo Kit
Get both a 303 Fabric/Vinyl Cleaner and 303 Fabric Guard in this convenient combo kit.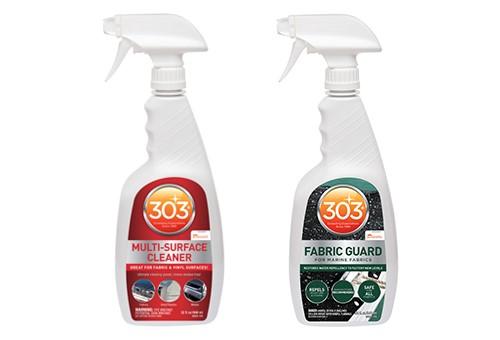 Product Details
Powerful enough to protect fabrics in the harshest environment …outdoors.
303® Marine Multi-Surface Cleaner will thoroughly clean your boat from bow to stern. Residue-free all-in-one cleaner with ultimate cleaning power. Contains no harsh chemicals, caustics or acids. Removes soaked in, heavy stains on marine vinyl and fabric. Perfect for cleaning boat covers, bimini top fabric, vinyl, stainless steel, chrome, rubber, plastic and more. Safely brightens and rejuvenates marine surfaces.. 32 oz. Trigger Sprayer / For general cleaning, use 4 oz. per 1 gallon of warm water.
On outdoor fabrics, 303® Marine Fabric Guard restores lost water repellency and stain repellency to factory new levels. 303® Marine Fabric Guard resists soiling, impedes mildew formation and helps protect against the sun's harmful UV rays. Proper maintenance with 303 Products will add to the life of your fabrics, save you money, and … It's Easy! 32 oz. Trigger Sprayer / 150 to 200 square feet of coverage.
Recommended by Sunbrella®.
Order No. 61057.
**Prop 65 Warning**
Need help?
Contact Information
Carver by Covercraft Industries, LLC
212 N. Lyles Ave.
Landrum , SC 29356
Phone: (864) 457-5820
Fax: (864) 457-5821
Associates are available Monday through Thursday from 8 a.m. to 5 p.m. Eastern and Friday from 8 a.m. to 4:30 p.m. Eastern.