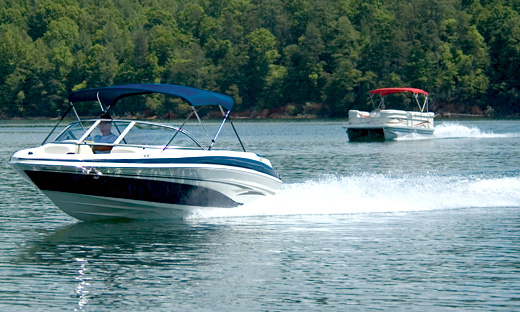 Bimini Tops
What makes a Carver Bimini Top Better? Quality.
Don't be fooled! Other bimini tops on the market may be lower in price, but beware of inferior construction.
Never purchase a bimini top with wire hooks or plastic eye straps! These are key stress points that require quality fittings to prevent your top from failing.
Carver bimini tops are available in 2-bow, 3-bow and 4-bow round tube, and 4-bow square tube to suit virtually any type of boat. Click the bimini tops link above to learn more about bimini top sizes. Our Fabrics link explains the differences in materials available and length of warranty. This information will help you determine what type of bimini top is right for you and your boat.
All Carver bimini tops are available in a selection of carefully engineered Fabrics to provide protection for you in a wide variety of colors to compliment your boat.
Our Online Selection Guide helps take the guesswork out of choosing the right part number for your bimini top. Over 30 years of developing patterns for a vast array of boat manufacturers and model years has enabled us to create the most comprehensive database of bimini tops for boats ranging from model year 1958 to present. We currently have over 17,000 pattern applications in a variety of fabrics and colors to give you the most extensive selection available anywhere!